The Mac Desktop App
See Also: iPhone, iPod Touch, iPad, Android
---
The Mac Desktop App - Offered by
See Also: iPhone, iPod Touch, iPad, Android
First, know that you do not *need* the desktop app to access Whisperings from a Mac. You can tune in just fine via your Mac's web browser. The Mac Desktop app just gives you an option for tuning in direct from the desktop (see below) rather than the browser.
The Whisperings Apps are made, sold and supported by a third party, a company called Emphatek. The Mac Desktop app sells for $4.99 USD. With this compact and easy-to-use app you can access the "Whisperings: Solo Piano Radio" stream directly from your desktop (no browser required). Access (from the app Settings tab) either the Whisperings Free Stream (the default), commercial-free PureStream (if you have a paid subscription) or the PureStream Custom option, which gives you access to features like skipping songs, marking favorite songs/artists so they play more often and so on. Please note the Whisperings app does not include a paid subscription to Whisperings PureStream.
Purchase the App from the Apple iTunes store for $4.99.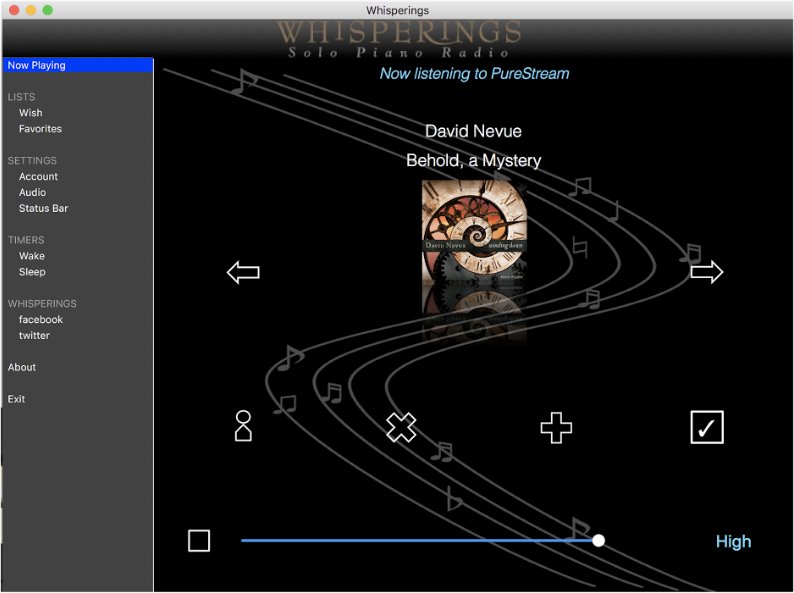 FEATURES
Incredible, fast, one-on-one customer support for the app... direct from the app developer.
Displays the album art, song and artist info in the app and in the status bar.
Customizable player for Whisperings PureStream subscribers (sold separately) that allows you to mark favorites so they play more often, skip songs, and remove songs you don't want to hear again.
The status bar information is also configurable so you can see only the information you want to see.
Configurable sleep timer that will gradually fade the music volume and shut down the app.
Configurable wake timer that will start the music and slowly fade up the volume.
A "wish list" that lets you save info about the songs you love in case you want to purchase them later.
View and edit lists of favorite artists and songs (available to PureStream members only).
Visit iTunes to purchase and download the current song or songs saved in your lists.
A single click will take you to an artist's personal website.
One-click login for Whisperings PureStream subscribers.
Redirect music to any device that supports Apple's Airplay such as Apple TV.
Settings to control stream quality.
Free upgrades to all future versions!
Download the Whisperings Mac OS app for music that will quiet your busy, noisy world.
Get the application right here from the Apple iTunes store for $4.99.
---
Questions? View the Whisperings Mac Desktop FAQ. If you have further questions about the application, feel free to contact Ken Roy at kenroy@emphatek.com